The person behind CedarHill Organizing and Planning Services is Christine: I have been interested in all aspects of organizing for a number of years. I feel that many people need and want assistance in getting their life, their home or their business more organized. Sometimes it just takes a little push from someone else, sometimes it takes a second set of eyes, sometimes it takes someone with a different vision. That is what CedarHill Organizing and Planning Solutions wants to do for you. Getting organized is a process...it is unlikely that you will 'get organized' and never need to do it again, or need help again. The same is true for me, so I definitely understand where you are now, what you are going through, and where you want to be...more ORGANIZED!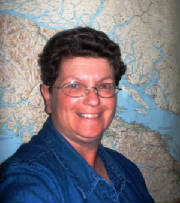 Christine McCubbin
CedarHill Organizing and Planning Services
I have a Bachelor's degree (education), BC and AB Teaching Certificates, and have taken a number of in-service training courses relating to management, leadership, safety, computers, and training.
My employment background includes:
15 years with the RCMP primarily in Communications (Dispatch) including over 5 years in supervisory positions

Contract work as Homestay (Academic) Coordinator for an International Student Exchange organization.

5 years as a Teacher Assistant in Kindergarten and Elementary grades in Alberta

Work as a Substitute Teacher in BC and AB in all Grades.

Work with Elections Canada, Elections BC, and Statistics Canada.