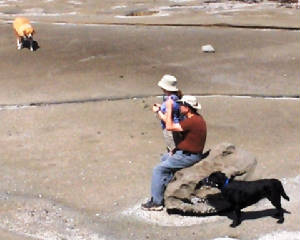 We are a PET HOME! If you have allergies to cats or dogs, unfortunately this is not the home for you. But, if you like cats and dogs, you may have just found a little bit of heaven!

Right now we have 1dog and 1 cat.



A bit about some of our Pets:
We are leaving this photo here in Memory of our beloved Sandy, who died Spring 2007, at the age of 10. She was hit by a car when she was a year and a half old, and was bothered by her sore leg and lots of arthritis. Right until the week before she died she loved going for walks, and loved lots of cuddles. We all still miss her.

The dog is KASIA and the cat is BANDIT...Kasia is a purebred Black Labrador, born October 2005. She is full of energy, very lovable...and likes to eat ROCKS. She has had surgery twice this spring to remove rocks which she has eaten. Very expensive. Bandit is a black and white kitten, born April 2006, who really loves playing with Kasia...and Kasia loves it too. It is lots of fun to watch Bandit hanging off of Kasia's mouth! We wonder if they will keep playing with each other as they get older. We also now have George, a step-brother to Bandit..who is orange.

KAYLA is our oldest cat, and definitely the family favourite! She is 11 years old, has had kittens, but cannot now. She is Brandy's grandmother and Bandit's great-grandmother. She is a beautiful dark Tortoiseshell, who is a really great hunter. She is very often away hunting for days at a time.

BRANDY is Bandit's mother...a lovely tortoiseshell/calico cat. Right now (August 2006) she has kittens...a litter of 5 cute cuddly kittens.

 

Please excuse our mess while we build our site!