We are the McCUBBIN FAMILY...your Hosts at CedarHill Homestay!
McCubbin Family photo taken Christmas 2008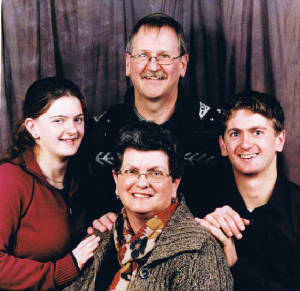 GRANT - Dad - works at a used-building business as the Manager. Grant enjoys dog-walks, hiking, tennis, fishing, reading, and working in the shop/yard.
CHRISTINE - Mom - enjoys reading, exploring Vancouver Island, crafts, being a Homestay Parent, and a Guider.
IAN - loves the outdoors, and helping others develop the same love. Ian also loves working with youth in adventure settings.
HEATHER - like her brother, has a great love of the outdoors. Heather is due to graduate from VIU with a Bachelor of Natural Resource Management in April 2012. Also a Guider!
KASIA - what do you say about a Black Lab? She's gorgeous and spoiled!
BANDIT - is a very fat black and white cat.




Please excuse our mess while we build our site!